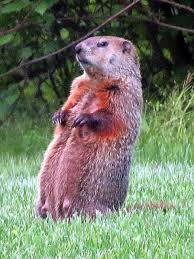 I'll always remember one morning in Kindergarten when Mrs. Holland said something about how she told us the day before to watch the news and make sure we paid attention to whether or not the groundhog saw it's shadow. And I DID NOT remember her saying any such thing. I was in the back of the class like "aw, cripes… I need to drop out of school and join the circus."
The kids near the front brought clippings from the newspaper! One had a drawing. I was in the panicking on the inside, but it was all for nothing, since we went on to the next subject before I had a chance to confess that I didn't know what was going on.
Thank goodness. I was much too young to grow a beard.